From Warsaw to Białowieża and back by the conference bus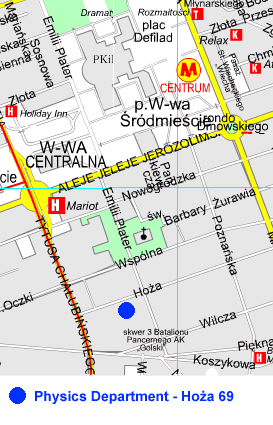 The free conference bus will be available for the participants to go from Warsaw to the Workshop site in Białowieża. The bus will leave on Saturday, June 28, from the Physics Department, Warsaw University, Hoża 69. (about 500 meters from Warsaw Central Railway Station - Warszawa Centralna, see Google maps). The bus will depart for Białowieża at 16:00 (4 P.M.).
We shall also arrange a free bus trip back from Białowieża to Warsaw on Sunday, July 6. The bus will depart not later than 7:00 (A.M.). It will arrive to Warsaw about 12:00. The exact time of departure of this bus will be announced during the Workshop.
From Warsaw Airport to Physics Department
The best way to get to the Physics Department from the airport is to take a direct train to Central Railway Station (Warszawa Centralna) or Railway Station "Srodmiescie". The trip takes around 20 minutes. You can also take a regular city bus (line 175) at the exit of the air terminal. One should get off at the bus stop in front of the Mariott Hotel, opposite to the Central Railway Station. Tickets cost about 4.40 zł (about 1 EUR) and can be bought at the newspapers stands or vending machines at the terminal. From there it is short walk to the Department. Members of the local organizing committee will be at hand there.
It is also possible to take a taxi from the Airport to the Physics Department. This way is more expensive, however it may be quicker and more comfortable. In the case, it is strongly advised to negotiate the price with the driver before hiring. Approximate cost is 30 zł.
From Warsaw to Białowieża by means of public transport
There is a direct bus from Warsaw to Białowieża departing from bus station Warszawa Wschodnia (East) at 14:50 (Recent change!). Return bus departs from Białowieża at 5:00. The ticket price is around 45 zl / 10 euro and can be bought on-line: e-podroznik.pl.
There are also alternate ways to reach Białowieża from Warsaw: one through SIEDLCE or CZEREMCHA and other one through BIAŁYSTOK. They both meet in HAJNÓWKA, a small town at the border of National Preserve Forest, about 15 km west from Białowieża.
The route through Białystok is a combination of train Warsaw - Białystok and bus Białystok - Białowieża, with a possible change of bus at Hajnówka. One can also choose a direct bus from Warsaw Airport to Białystok organized by Polski Express.
The route through Siedlce or Czeremcha is combination of a train Warsaw - Hajnówka (with one or two changes at Siedlce or Czeremcha) and a bus Hajnówka - Białowieza.
For details, please check train/bus timetables linked below or contact the organizing committee.

It is also possible to hire a taxi from Hajnówka to Białowieża, with an estimated cost of 80 zl (30 EUR or 40 $) or less.
From Moscow to Białowieża by means of public transport
There is very good train connection from Moscow to Grodno and then to Białystok. It may be cheaper and faster than connection through Warsaw. Please read previous point for information about reaching Białowieża from Białystok by bus.
Another posibility is to take a train to Brest, take a bus to Kamyanyuki and cross the border near Białowieża by foot at the checkpoint Białowieża-Piererov. Please note that it is pedestrian only crossing point. Please let know the Organizing Committee if you intend to use this route so we can organize a transport from border to the center of Białowieża (around 5km).
Hotel in Warsaw
The organizers can book a hotel room in Warsaw, either before or after the Workshop. We usually book rooms in Warsaw University Hotel "Hera". Moreover there are many convenient hotels you can boook on your own by internet, see e.g. Dom Chłopa.
Additional links: