XXI WORKSHOP ON GEOMETRIC METHODS IN PHYSICS
RECENT DEVELOPMENTS IN QUANTIZATION
30 JUNE - 6 JULY 2002, BIAŁOWIEŻA, POLAND
---
First Announcment
Second Announcment
Registration Form
Travellers Guide
---
TRAVELLING TO BIALOWIEZA ON ONE'S OWN
There are basically two different routes to reach Bialowieza from Warsaw: one through SIEDLCE and other one through BIALYSTOK. They both meet in HAJNOWKA, a small town at the border of National Preserve Forest, about 15 km west from Bialowieza. (See the map below.)
ORIENTATION MAP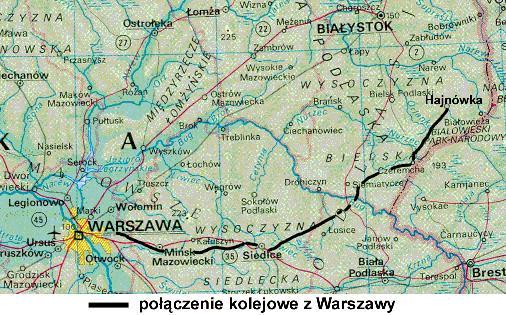 The route through Bialystok is a combination of train Warsaw - Bialystok and bus Bialystok - Bialowieza, with a possible change of bus at Hajnowka.
The route through Siedlce is a combination of train Warsaw - Siedlce - Hajnowka (change of a train at Siedlce) and a bus Hajnowka - Bialowieza
It is also possible to hire a taxi from Hajnowka to Bialowieza, with an estimated cost of 80 zl (20 US $) or less.
In case of a late arrival to Hajnowka, or otherwise in trouble there, please make a call to the conference site at the Dom Wycieczkowy (Hostel) PTTK in Bialowieza:
telephone Nr. (085) 681 2505 (for calls from Hajnowka no area code (085) is needed).
Additional: