XXI WORKSHOP ON GEOMETRIC METHODS IN PHYSICS
RECENT DEVELOPMENTS IN QUANTIZATION
30 JUNE - 6 JULY 2002, BIAΜWIE涉, POLAND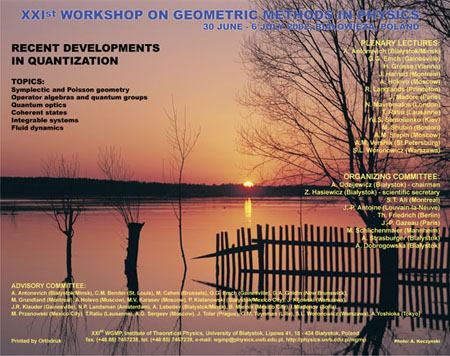 ---
First Announcment
Second Announcment
Registration Form
Travellers Guide
---
FIRST ANNOUNCEMENT
The Workshop on Geometric Methods in Physics has become one of the widely recognized regular activities in the field of mathematical physics and applied mathematics. It has been organized every year since 1981 and grew from local regional meeting to its present international form, attracting leading physicists and mathematicians from all over the world.
The program will consist of invited lectures, often of a review character, as well as of specialized contributed talks.
PLACE AND TIME
The Workshop of 2002 will take place in its home venue in the very heart of the woods of Bia這wie瘸 National Park - the site of great natural beauty. Arrival date will be Saturday, June 29-th. The scientific activity will run from Sunday June 30-th till Saturday July 6-th and will end up with Magic Kupa豉 Night (6/7-th of July). There will be a special bus service from Warsaw to Bia這wie瘸 and back, on 29-th of June and on 7-th of July respectively, for the participants of the conference.
TOPICS & FRAMES
The topics cover, as usually, the wide areas of mathematical physics, and pure mathematics inspired by physical problems. The conference gives good opportunity to exchange the ideas between physicists and mathematicians. The specific subjects of XXI Workshop include: quantum optics, coherent states, symplectic and Poisson geometry, operator algebras and quantum groups, integrable systems, fluid dynamics.
PLENARYSPEAKERS ( tentative )
A. Antonievich (Bia造stok/Minsk) H. Grosse (Vienna) J. Harnad (Montreal) R. Langlands (Princeton) A. Lebedev (Bia造stok/Minsk ) J. Madore (Paris) T. Ratiu (Lausanne) M. Shubin (Boston) A.M. Stepin (Moscov) A.M. Vershik (St.Petersburg) S.L. Woronowicz (Warsaw)
ACCOMODATION AND CONFERENCE FEE
The conference fee is 400 EUR and covers full board and lodging in shared (double) rooms and proceedings volume. There is a possibility to get single accommodation (at extra price - not fixed at the moment) at the walking distance from the main lecture hall - the number of single rooms is limited however. There is also a possibility to come with accompanying person - the extra costs may vary depending on the standard and can be settled on the spot.
ORGANIZING COMMITTEE
A. Odzijewicz (Bia造stok) - chairman, Z. Hasiewicz (Bia造stok)- scientific secretary, S.T. Ali (Montreal), J.-P. Antoine (Louvain-la-Neuve) Th. Friedrich (Berlin), J.P. Gazeau (Paris) M. Schlichenmaier (Mannheim), A. Strasburger (Bia造stok/Warsaw)
ADVISORY COMMITTEE
A. Antonievich (Bia造stok/Minsk), C.M. Bender (St. Louis), M. Cahen (Brussels), G.G. Emch (Gainesville), M. Grundland (Montreal), G.A. Goldin (New Brunswick) A.Holevo (Moscov), J. Kijowski (Warsaw), M.V. Karasev (Moscov), J.R. Klauder (Gainesville), N.P. Landsman (Amsterdam), B. Mielnik (Mexico City), I.Mladenov (Sofia) T.Ratiu (Laussanne), A.G. Sergeev (Moscov), J. Tolar (Prague), G. Tuynman (Lille), S.L. Woronowicz (Warsaw), A.Yosioka (Tokyo)

The application forms (also at the website) should be sent or faxed to the organizers:
XXI WGMP Institute of Theoretical Physics
University in Bia造stok
Ul. Lipowa 41 15 - 424 Bia造stok,
Poland fax. (+ 48 85) 745 72 38 tel. (+ 48 85) 745 72 39
e - mail: wgmp@labfiz.uwb.edu.pl by April 30. 2002
http://physics.uwb.edu.pl/wgmp/