XXII WORKSHOP ON GEOMETRIC METHODS IN PHYSICS
DYNAMICAL SYSTEMS AND QUANTIZATION
29 JUNE - 5 JULY 2003, BIAŁOWIEŻA, POLAND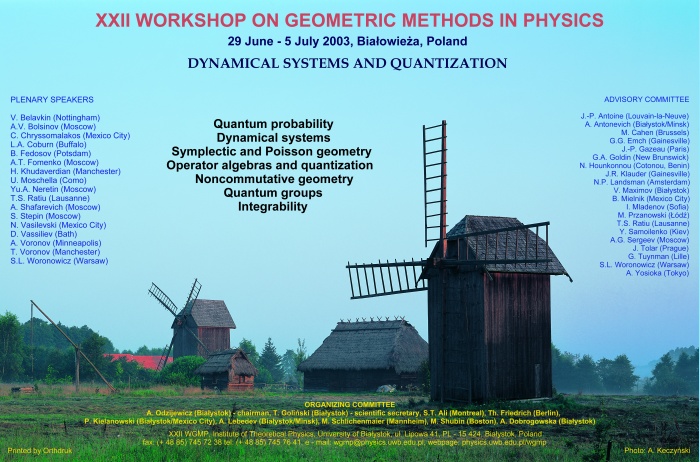 ---
First Announcement &nbsp&nbsp Second Announcement&nbsp&nbsp Registration Form &nbsp&nbsp Travellers Guide &nbsp&nbsp Participants
---
SECOND ANNOUNCEMENT
Scientific Programme
Plenary lectures:
Viacheslav Belavkin (Nottingham), title to be announced
Alexei V. Bolsinov (Moscow), SOL-manifolds: Quantum monodromy and Spectrum OR Geodesic flows: integrability, chaos and topological entropy
Chryssomalis Chryssomalakos (Mexico City), Trees, Ladders, Rainbows, Renormalized Hopfully
Lewis A. Coburn (Buffalo), Berezin-Toeplitz operators and Gabor-Daubechies 'windowed' Fourier localization
Boris Fedosov (Potsdam), An index theorem for symplectic orbifolds
Anatoly T. Fomenko (Moscow), New results in the theory of Integrable Systems on Homogeneous Spaces (together with K.M.Zuev)
Hovhannes Khudaverdian (Manchester), The Laplace operator in odd symplectic geometry
Ugo Moschella (Como), title to be announced
Yu.A. Neretin (Moscow), Analysis of Berezin kernels on symmetric spaces
Tudor S. Ratiu (Lausanne), title to be announced
Andrei Shafarevich (Moscow), Semiclassical quantization of real and complex isotropic manifolds
Stanislav Stepin (Moscow), Scattering and spectral singularities of Schroedinger operator
Nikolai Vasilevski (Mexico City), Commutative C*-algebras of Toeplitz operators, Berezin quantization, and geometry
Dmitri Vassiliev (Bath), Do we really live in a Riemannian world?
Alexander A. Voronov (Minneapolis), String Topology
Theodore Voronov (Manchester), Geometry of differential operators, odd Laplacians, and homotopy algebras
Lech Woronowicz (Warsaw), Haar measures on some quantum groups
Please refer to the list of participants (e-mail addresses, abstracts and full list of titles of the talks).
Transportation and accommodation
From Warsaw to Białowieża and back by the conference bus
The free conference bus will be available for the participants to go from Warsaw to the Workshop site in Białowieża. The bus will leave on Saturday, June 28, from the Physics Department, Warsaw University, Hoża 69. (about 300 meters from Warsaw Central Railway Station). The bus will depart for Białowieża at 16:00 (4 P.M.).
We shall also arrange a free bus trip back from Białowieża to Warsaw on Sunday, July 6. The bus will depart not later than 7:00 (A.M.). It will arrive to Warsaw about 11:00. The exact time of departure of this bus will be announced during the Workshop.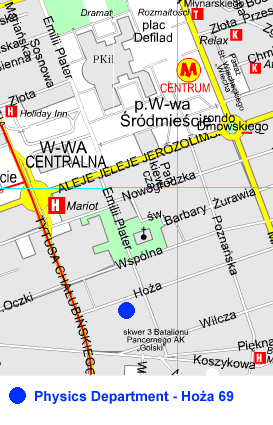 From Warsaw Airport to Physics Department
The best and cheapest way to get to the Physics Department from the airport is to take regular city bus (line 175) at the exit of the air terminal. Ticket costs about 3 zł (less than 1 EUR) and can be bought from the bus driver or at the newspapers stands at the terminal. One should get off at the bus stop in front of the Mariott Hotel, opposite to the Central Railway Station (Warszawa Centralna). From there it is short walk to the Department. Members of the local organizing committee will be at hand there.
It is also possible to take a taxi from the Airport to the Physics Department. This may be very expensive in Warsaw. In the case, it is strongly advised to negotiate the price with the driver before hiring. Approximate cost is 30 zł.
From Warsaw to Białowieża by means of public transport
Białowieża can also be reached by the combination of train and bus. In this case one should take the train to Białystok. From Białystok to Białowieża one has to continue by bus. The Bus Station in Białystok is next to the railway station and one has to pass the bridge over the rails only. For train and buses schedules as well as maps please check Travellers Guide.
From Moscow to Bialowieza by means of public transport
There is very good train connection from Moscow to Grodno and then to Bialystok. It is cheaper and faster than connection through Warsaw. Please read previous point for information about reaching Bialowieza from Bialystok by bus. For further details please contact Organizing Committee member Andrei V. Lebedev (lebedev@bsu.by).
Hotel in Warsaw
The organizers can book a hotel room in Warsaw, either before or after the Workshop. Please let us know about that as soon as possible. Prices range from 40 EUR to 100 EUR.
Registration fee
We would like to remind the foreign participants that the amount of 400 EUR should be paid upon arrival in Białowieża in cash. Unfortunately we cannot accept personal cheques, bank drafts or travellers cheques.
Accomodation
Please note that due to the local conditions the accommodation is usually shared. If there is another participant with whom you may wish to share a room, please let us know. Also let us know if you would like to have single room (at extra price). However note that only a small number of single rooms is available so we may not be able to fulfill all the requests.
The participants are kindly asked to notify us about any dietary restrictions.
The conference mailing address (during the workshop only)
Dom Wycieczkowy PTTK
Park Pałacowy
17-230 Białowieża, Poland
tel. and fax (+48) (85) 681 25 05

Address of the organizing committee
XXII WGMP
Institute of Theoretical Physics
University of Białystok
Lipowa 41
15-424 Białystok, Poland
tel. (+48) (85) 745 76 41 fax. (+48) (85) 745 72 38
e-mail: wgmp@physics.uwb.edu.pl